When you get back to the United States after an international trip, how long do you expect to stand in line to clear passport control? Ten minutes? Twenty minutes? An hour? A recent study has analyzed the wait times for international arrivals at airports across the US, and has revealed that the amount of time you'll spend in line will vary depending on which airport you use. Some airports are much better at getting US citizens swiftly processed through passport control than others!
America's Busiest Airports Have Long Wait Times
The top two airports which receive the highest number of international arrivals also have some of the longest wait times for passport control. New York's John F. Kennedy airport, which receives 14.6 million travelers arriving from overseas each year, and Miami International Airport, which gets more than 10 million international arrivals annually, are among the airports with the longest average wait time to clear passport control. The average wait times at both airports are 25-30 minutes, with some passengers experiencing wait times of more than 50 minutes. At both JFK, about a quarter of the returning US citizen passengers had to wait in line for more than 30 minutes before they cleared US immigration, and in Miami, a third of the passengers had to wait for that long!
Of other major hub airports, San Francisco, Orlando, and Los Angeles also had among the longest waits for passport control. At least a quarter of all returning US citizens had to wait for half an hour or more at all three of those airports. Average wait times were all in excess of 20 minutes.
Some Busy Airports Have Efficient Immigration Lines
Not every major international airport is as slow as JFK, Miami, or LAX. Atlanta's Hartsfield-Jackson International Airport, which receives nearly 5 million international arrivals every year, has an average wait time of just 12 minutes! Very few passengers – only 11% — wind up waiting more than 30 minutes to go through passport control. Phoenix Sky Harbor, Charlotte Douglas International Airport, and Washington Dulles also are busy airports that typically process returning passengers through in 11 minutes or less. JFK's main competition, Newark Liberty Airport, is also an efficient option, with average wait times of 17 minutes at its passport checkpoints.
America's Best and Worst Airports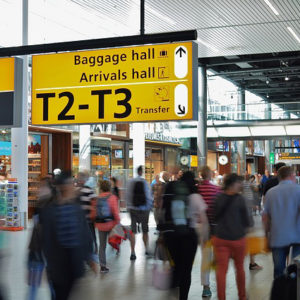 Top honors for speedy passport control goes to Chicago-Midway Airport, which clears passengers through passport control in an average of only 9 minutes. A scant 8% of passengers have to wait 30 minutes or more. Go ahead and order that Uber – you'll be out of the airport in no time!
If you're flying in to Sacramento, though, you'd be better off pulling up Angry Birds instead of the Uber app… you're going to be in line for a while. Sacramento had the worst wait times of all the airports surveyed. More than half of all passengers had to wait more than 30 minutes to get through passport control, with the average maximum wait time topping one hour! Sacramento doesn't offer any means of expediting immigration. They don't have dedicated lines for Global Entry members, and they also don't use Automated Passport Control kiosks or the Mobile Passport Control app.
Choose the Right Hub for Your International Adventures
When you plan your next international trip, you might want to think about the airport experience when you choose your flights. As we've seen, there are wide differences between airports when it comes to the amount of time you'll spend standing in line! No one likes waiting in line, especially not when you've just disembarked from a long international flight. This is particularly true if you are traveling as a family… with tired, cranky kids in tow, even a short wait can feel like hours.
The wait time report recommends that if you're flying to Asia, you're better off returning to Seattle than to any airport in California. For flights to Europe, Atlanta and Washington-Dulles offer the smoothest re-entry to the United States. Travelers to Latin America may want to look at flights that utilize Dallas or Atlanta rather than Miami.
Are Small Airports Faster?
Smaller airports have the advantage of receiving fewer passengers, but that doesn't always mean that they'll have shorter lines at passport control. At a smaller airport, there will typically be fewer US Customs and Border Patrol agents on duty checking passports, which means that just one or two large flights arriving can cause backups in the immigration lines.
In addition to being better staffed and having more lanes for passport control, the larger airports like Kennedy, Miami, Chicago O'Hare, and Atlanta are also the ones that offer more options for getting through passport control quickly, like dedicated lanes for Global Entry members or Mobile Passport Control app users.
When You Travel Matters
Sorry, summer vacationers – July and August are always the months with the very longest lines at passport control, no matter what airport you use. The month with the shortest average wait times is February. The reason for these seasonal changes is simple – it's all about volume of travelers. Fewer people travel in February than in the summer months, when kids are out of school and ready to go on family vacations. The month of November has the second shortest average wait times at passport checkpoints. You might think that November is a busy travel month because of Thanksgiving, but the majority of that travel is domestic, not international. You might have a long wait at the airport Starbucks counter in November, but at least you'll clear immigration quickly!
The time of day your flight arrives also makes a difference. In general, the longest wait times are in the early morning hours, right before dawn. All it takes is one morning flight to arrive a bit early, and the lines can get out of control!
What About Non-US Citizens?
In this article, we've been focusing on the wait times that US citizens experience when returning to the states. Every airport in the US has separate immigration lanes for US and non-US citizen travelers, and non-US travelers can expect to wait in line a lot longer, as the US Customs and Border Patrol officers will take longer to process each individual traveler through passport control.
Some non-US citizens are eligible to use the new checkpoint-expediting technologies. The Mobile Passport Control app can be used by Canadians as well as US citizens. Automated Passport Control Kiosks can be used by Canadians and by any citizen of one of the 38 Visa Waiver nations who do not need a visa to enter the US.
What's the longest you've had to wait to clear US immigration? Tell us in the comments!