If you are thinking of expanding your family through international adoption, all of us at PassportInfo.com send our best wishes! The adoption process is an exciting and scary time, and when you're adopting a child from another country, you'll have to deal with extra logistics and paperwork. In this article, we'll focus on the travel documents (passports and visas) you'll need to bring your child home to the United States.
Passports for Parents
One of your first steps in the international adoption process should be to make sure that your US passport is valid for travel. If you don't currently have a passport, now is the time to get one! You should also check to make sure that your passport is in good condition and has blank visa pages. Most critically, check the expiration date of your passport. If your passport will expire within the next year, go ahead and renew it now. It's quite likely that you'll need to travel on short notice when you have been placed with a child. When you finally get the call from your Adoption Service Provider to tell you that it's time to fly to meet your new son or daughter, you don't want to discover that your passport doesn't have enough validity remaining!
Passports for US Citizen Children
If you have children who will be traveling with you when you adopt their new brother or sister, you'll also need to make sure that they have passports that are up to date. Remember, passports for children under age 16 are only valid for five years, so your children may need new passports even if yours will be valid for years to come!
Travel Visas
During your preliminary adoption process, you'll need to find out if the country you are adopting from will require you to have a visa to enter. Of the ten most popular countries for international adoptions, Colombia, Taiwan, Ukraine, and South Korea do not require visitor visas for US citizens. However, China, Russia, Ethiopia, Nigeria, Uganda, and Democratic Republic of Congo do require visas for all visits by US citizens. You are likely to need a business visa when you travel over to adopt your child, because you'll be dealing with legal matters. If you're just going over for a visit – either on a preliminary trip to visit your child before the adoption, or going back after the adoption to show your child the land of their birth – you can travel on a tourist visa.
Bringing Your Child Home With a US Immigrant Visa
The time has finally come – you've traveled abroad and been united with your child, and now it's time to bring her home to the United States. Your child will enter the US on an immigrant visa, and will be granted full US citizenship after she gets to the US. Immigrant visas are special residence visas issued to people who are on a track to citizenship. Non-immigrant visas, like the business visa you may have used for your adoption trip, are visas that are issued for a limited stay for a specific purpose.
The type of visa your child will use to enter the US will be determined by the country you are adopting from, and whether that country is part of the international Hague Convention on Adoption. More than 90 countries around the world signed the Hague Adoption Convention in 2008, which unified the intercountry adoption process.
The United States is a signatory nation, as are all of the following countries:
Albania
Andorra
Armenia
Australia
Austria
Azerbaijan
Belarus
Belgium
Belize
Bolivia
Brazil
Bulgaria
Burkina Faso
Burundi
Canada
Chile
China (and Hong Kong)
Colombia
Côte d'Ivoire
Costa Rica
Croatia
Cubav
Cyprus
Czech Republic
Denmark
Dominican Republic
Ecuador
El Salvador
Estonia
Finland
France
Georgia
Germany
Greece
Guinea
Haiti
Hungary
Iceland
India
Ireland
Israel
Italy
Kenya
Latvia
Lesotho
Liechtenstein
Lithuania
Luxembourg
Macedonia
Madagascar
Mali
Malta
Mauritius
Mexico
Moldova
Monaco
Mongolia
Netherlands
New Zealand
Norway
Panama
Paraguay
Peru
Philippines
Poland
Portugal
Romania
San Marino
Serbia
Seychelles
Slovakia
Slovenia
South Africa
Spain
Sri Lanka
Sweden
Switzerland
Thailand
Togo
Turkey
United Kingdom
Uruguay
Venezuela
Zambia
Cambodia, Cape Verde, Fiji, Guatemala, Kazakhstan, Montenegro, Rwanda, Senegal, Swaziland, and Vietnam have also signed the Hague Adoption Convention, but they have not yet implemented it. These countries function like non-Hague countries.
If you are adopting from one of the Hague Convention nations listed above, your child will be issued either an IH-3 or IH-4 immigrant visa. If you're adopting in a non-Hague country, your child will use an IR-3 or IR-4 immigrant visa to come to the United States.
Hague Country Adoption Process
For Hague country adoptions, you will start to file for your child's visa even before your adoption placement is finalized! Your first visa step will be to file Form I-800A, "Application for Determination of Suitability to Adopt a Child from a Convention Country."  This form is filed with the US Citizenship and Immigration Service (USCIS) while you are in the US, before a child has been placed with you. Once you have been approved, your Adoption Service Provider will arrange an adoption placement, linking you with your new son or daughter! You'll then file Form I-800, "Petition to Classify Convention Adoptee as an Immediate Relative."  This is a preliminary step to getting your child an immigrant visa.
Your next step is to travel overseas to either formally adopt your child in his home country, or obtain custody to bring him to the US to finalize the adoption. While you are overseas, but before the adoption is finalized, you'll apply for your child's immigrant visa at the nearest US Embassy or Consulate. IH-3 visas are granted to children who will be formally adopted overseas, and IH-4 visas are issued to children who will have the adoption finalized in the United States. Please note that your child will need to have a valid passport issued by his home country in order to get the visa!
Non-Hague Country Adoption Process
Like Hague country adoptions, your first step will be to prove your eligibility to adopt a child, which is done by filing Form I-600A, "Application for Advance Processing of an Orphan Petition." This form doesn't specify a particular child, and can either be filed before or after you are placed with a child. Once you have gotten your adoption placement, you'll file Form I-600, "Petition to Classify Orphan as an Immediate Relative."  If your adoption process is moving quickly, you can file both forms at the same time!
After both petitions are granted, you will be able to travel abroad to meet up with your child. You'll either formally adopt your child overseas, or go through legal custody proceedings so you can bring her back to the US to finalize the adoption. You'll go to a US Embassy or Consulate to get your child's visa after the adoption or custody is complete. Your child will be granted an IR-3 or IR-4 visa.
Getting a US Passport for Your Adopted Child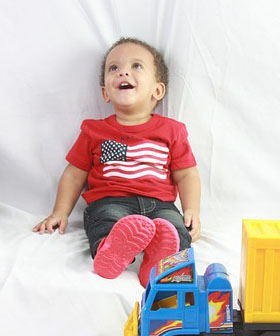 You're finally home with your child… congratulations! Your child automatically becomes a US citizen once he or she has moved to the United States and the adoption has been finalized. If your child was officially adopted overseas and came in on an IH-3 or IR-3 visa, this means he became a US citizen the moment he arrived in the US. The USCIS will send a Certificate of Citizenship to you without you having to file any more forms or pay any more fees.
If your child was issued an IH-4 or IR-4 visa, this means that the adoption was not finalized overseas, and you'll need to go to court to adopt your child in the US. Since you've already gone through a custody procedure, this is often referred to as "re-adoption." After this is done, you can file Form N-600, "Application for Certificate of Citizenship."
Once you have the Certificate of Citizenship in hand, you can apply for your child's passport using the standard minor passport procedure. The only differences between applying for a passport for an internationally adopted child and a US-born, biological child is that you will submit the Certificate of Citizenship to prove she is a US citizen and your adoption decree to prove you are her legal parents, instead of the birth certificate that is used to prove citizenship and parentage for a child born in the US.
We wish you and your family all the best on your adoption journey!