September is National Passport Awareness Month, and this year, the US State Department wants to make sure you get a Picture Perfect Passport. They are using the hashtag #pictureperfectpassport on Facebook and Twitter to spread the word about the importance of having a good passport photo.
Having a good passport photo isn't just about looking your best. Problems with passport photos are the number one cause for passport applications to be rejected! Every year, approximately 200,000 US passport applications are denied because the photos don't meet the official standards. Want to ensure that your photo will pass muster?
The US State Department tells us that these are the five most common problems with passport photos….
Incorrect Size
Your passport photo must be 2"x2" square. If it's been printed on a larger piece of photo paper, it will need to be cut to size. In the photo, your face must also be the right size. Break out the ruler and check: your face must measure between 1 inch and 1 3/8 inches from the bottom of your chin to the top of your head. If the photo has been zoomed in too much, or taken from too far away, your photo will be rejected.
Lighting Problems
Your photo needs to be well-lit, with even lighting that doesn't cause shadows that hide your features. When your photo is printed, make sure it's not too dark or too light. Photos that are overexposed or washed out will be rejected. Your photo needs to have a white background and must show your true skin color.
Photos More Than 6 Months Old
Your passport photo must be recent and reflect your current appearance. If your photo was taken more than six months ago, toss it and go get a new one!
Glare on Glasses
Your eyes need to be clearly visible in your passport photo. If you wear glasses, you may want to take them off before you take your passport photo. Otherwise, if the camera flash causes glare on your glasses, your photo will not be acceptable. The State Department also tells us that soon they'll be changing the photo requirements, and will no longer allow passport applicants to wear glasses in their passport photo.


Update: the State Department has now announced that glasses will not be allowed in photos as of November 1, 2016.

Poor Quality Image, Printing, or Photo Paper
Your passport photo needs to be a crisp, clean image on good quality photo paper. Low-resolution, blurry, or pixilated photos will be rejected. You'll also have your photo rejected if it's printed on ordinary paper, or if there is any creasing or damage to the photo. It's okay to staple the edge of the photo to the passport application, though.
Other Potential Passport Photo Problems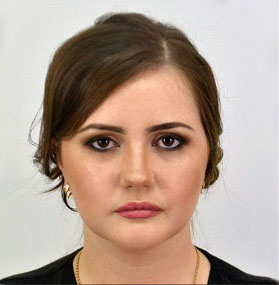 Beyond the five most common problems with passport photos, we've seen photos rejected for a number of other reasons, including:
Objects in the background. The background of the photo must be plain white. At a professional photography lab, they'll have a white backdrop to use for the photos, but if you take your own photo, you can stand against a plain white wall. Make sure there is nothing in the background – no door frames, wallpaper, furniture, or drapery. Even a heavily textured wall, like wood paneling or bricks painted white, is cause for a photo to be rejected.
Headgear. You probably already know that you're not allowed to wear hats or scarves in your passport photo, unless it is religious headgear that you wear every day. But we've seen photos rejected because the applicant was wearing a cloth headband! To be safe, don't wear anything in your hair larger than a bobby pin or thin ponytail holder.
Tinted glasses. Do you have those cool glasses that automatically darken when the light is bright? Take them off before you take your passport photo. The camera flash will cause your lenses to darken.
Uniforms. You need to wear normal street clothes in your passport photo. Uniforms are not allowed, and that means not just military uniforms but any sort of uniforms, including flight crew uniforms.
Wide grins. Your photo must show you with a neutral expression. Your photo will be rejected if you are smiling widely and showing your teeth! But you don't need to frown or look stern. A small, natural smile with your mouth closed is allowed.
Black and white photos. Black and white photos are artistic and romantic, but they've got no place on a modern passport. Your photo must be printed in color.
Head turned to the side. Want to show the camera your good side? Sorry. Your passport photo must show you looking forward, with your head straight and not tilted.
Eyes closed. We know it's hard to keep your eyes open when the flash goes off! But you must have both eyes open in your passport photo. (An exception is made for small babies.)
What Happens When a Photo is Rejected?
Passport photos may be rejected at two different stages of the passport issuance procedure. Photos can be rejected by the Passport Acceptance Agent, when you visit the Passport Acceptance Facility to submit your application for a new adult passport, minor passport, or replacement for a lost or damaged passport. The Passport Acceptance Agent will review your photo to make sure it meets all the US State Department photo guidelines. They'll also check to make sure that the photo really looks like you! If your photo is rejected, you'll need to get a new photo before your passport application can be accepted. Some Passport Acceptance Facilities have photo services on site, so you may be able to get a new photo immediately and submit your application without any further delay. But if your local facility doesn't have photo services, you'll need to make an appointment to come back another day with your new photo.
Passport photos can also be rejected by Passport Agency personnel while your passport is processing. If your photo is rejected, your application will be placed on hold, and you will be contacted (usually by mail) to provide a new photo. Processing won't resume until they get your new photo. This can cause serious delays with your passport application!
Using a passport expediting service can help prevent delays due to unacceptable photos. Employees of passport services are all familiar with State Department regulations, and can do a preliminary review to make sure your photo looks good. If your photo does get rejected, they will be informed right away, and will be able to submit your new photo ASAP so your passport will be issued quickly.
Want more info on how to get a #pictureperfectpassport? Check out our Model's Tips for a Great Passport Photo and our guide on how to take a passport photo of your baby!