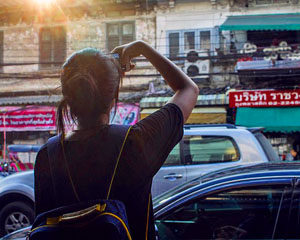 Do you need a Thailand visa for your visit to the Kingdom of Thailand? You might, depending on your reason for visiting Thailand! The length of time you will spend in Thailand will also impact whether or not you will need a visa for your trip. Today, we'll look at Thailand's visa policies for US citizens and help you figure out how to get the Thailand visa you need for your trip!
If you aren't a US citizen, you may have different visa requirements to visit Thailand. Check with the Royal Thai Embassy or a reputable visa expediting company to find out what you will need for your trip.
Do You Need a Thailand Visa for Tourism?
Thailand is a popular destination for tourists. In fact, Bangkok, Thailand was ranked as the world's most popular destination city in 2016! Almost 21.5 million international visitors went to Bangkok in 2016… not all of them Americans, of course!
US citizens don't need to get visas for tourist visits to Thailand. You can stay for up to 30 days as a tourist, visa-free. You'll just need to have a valid passport with at least one blank page and six months or more validity remaining.
Thailand Visas for Longer Tourist Stays
With all that Thailand has to offer, you might want to spend more time exploring the country. If you'd like to stay more than 30 days in Thailand, you can apply for a tourist visa in advance of your trip.
Thailand visas for tourism are issued for either single entry or multiple entry. Single entry visas are valid for a three month period, and multiple entry visas are valid for a six month period. Both single and multiple entry visas allow you to stay for up to 60 days in Thailand.
Most tourist visas are issued for general tourist purposes, but Thailand has two special categories of tourist visa. One type of special Thailand visa is a medical tourism visa. This is for people who want to come to Thailand for medical procedures like plastic surgery. The other type of special tourist visa is for people who are coming to Thailand to study yoga, scuba diving, or boxing. Muay Thai, anyone?
Business Travelers Need Thailand Visas
Are you going to Thailand for business? You will need to get a business visa.
Business visitors to Thailand are granted "Non Immigrant Category B" visas. They can be issued for either single entry with a validity of three months, or multiple entries valid for one year. Either type of Category B visa allows you to stay for up to 90 days at a time.
Category B visas are also issued to people who are coming to Thailand on brief work assignments. This includes teachers, such as people who will be teaching English in Thailand.
Retiring or Living in Thailand
With it's low cost of living, tropical paradise climate, friendly people, and some of the world's greatest food, it's no surprise that many US citizens want to live in Thailand! It's a tempting destination for retirees as well as for young people seeking adventure.
If you want to spend a while living in Thailand, you will need to arrange for a proper residence permit. You can't just show up, enter the country on a 30-day visa exemption, and then stay! In recent years, Thailand has been cracking down on people who stay longer than they are allowed. If you overstay, you can be banned from reentering Thailand. The length of time you will be banned from entering will be determined by how long you stayed:
Overstayed by 90 to 365 days? You'll be banned for one year.
If you overstayed by 1 to 3 years, you will be banned from entering Thailand for three years.
Stayed in Thailand for 3 to 5 years past your visa expiration? You'll be banned for five years.
You'll be barred from Thailand for ten years if you overstay your visa by 5 years or more.
These penalties are given to people who are discovered to have overstayed their visa when they are departing Thailand. But if you get caught by authorities while you are still in Thailand, you'll be banned from returning for a much longer period of time!
Where Can You Get a Thailand Visa?
Thailand visas are issued at the Royal Thai Embassy in Washington, DC, as well as by the Consulates General of Thailand. Most of the Thai consulates do not enforce consular jurisdiction, but it's recommended that you apply at the consulate that oversees your state of residence.
The consulates of Thailand oversee the following states:
Royal Thai Embassy, Washington, DC:
Alabama
Delaware
District of Columbia
Florida
Georgia
Louisiana
Maryland
North Carolina
South Carolina
Tennessee
Texas
Virginia
West Virginia
Puerto Rico
Royal Thai Consulate General, Chicago:
Arkansas
Illinois
Indiana
Iowa
Kansas
Kentucky
Michigan
Missouri
Nebraska
North Dakota
Oklahoma
South Dakota
Wisconsin
Royal Thai Consulate General, Los Angeles:
Alaska
Arizona
California
Colorado
Hawaii
Idaho
Montana
New Mexico
Nevada
Oregon
Utah
Washington
Wyoming
US Pacific Territories
Royal Thai Consulate General, New York:
Connecticut
Maine
Massachusetts
New Hampshire
New Jersey
New York
Pennsylvania
Ohio
Rhode Island
Vermont
What Documents Will You Need to Get a Thailand Visa?
You can expect to submit the items below to get your Thailand visa. However, you may need additional documents based on the type of visa you are requesting.
Your Passport. This must be valid for at least six months past the end of your stay in Thailand. It must be signed and have at least one blank page marked "Visas."
One Completed Visa Application. Each consulate has their own application, so make sure you fill out the right one!
Passport-Style Photographs. These should be no more than six months old, and should be different than the one in your passport.
Your Flight Itinerary. This must show your name and your entry to and departure from Thailand.
A Recent Bank Statement. The Thai government wants to make sure that you have enough money to support yourself during your stay. Your bank statement must show a minimum of $700 on deposit. For some types of visa, you might be required to show a higher balance.
Have you visited Thailand? Tell us about it in the comments!