More than 11 million passengers board cruise ships in the US every year. That means that 11 million people also disembark cruise ships at US ports every year, and have to clear US customs and immigration at cruise terminals. If you are part of the 20% of the American population who has taken a cruise, you know what it's like when a ship with thousands of people reaches its final port of call. It can take hours to process all of the passengers through US immigration! The good news is that the same technologies that are speeding arrivals at US airports are now becoming available at cruise ports.
There are currently 30 active cruise ports in the United States. Of that 30, one of them is leading the way in bringing new passport control technologies to cruise passengers. Port Everglades in Fort Lauderdale, Florida is testing both Automated Passport Control kiosks and the Mobile Passport Control smartphone app.
Automated Passport Control kiosks have been available at select international airports for the last few years. The program has grown to 30 airports across the US. These self-service machines allow citizens of the United States, Canada, and other Visa Waiver Program nations (people who don't need visas to visit the US) to check themselves in at the kiosk and fill out their arrivals and customs forms. They can then go through a fast lane to clear customs and enter the United States. Fort Lauderdale's Port Everglades is the first cruise port to install the kiosks. This June, they were made available to passengers disembarking Royal Caribbean's "Oasis of the Seas" at Cruise Terminal 18. With the Automated Passport Control kiosks successfully in use for this one ship, Port Everglades is now installing them in Cruise Terminal 4, which receives passengers from Carnival Cruise Lines vessels. The kiosks in Cruise Terminal 4 should be operational by early July.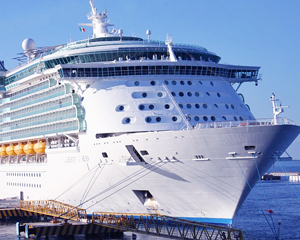 Port Everglades is also working with the United States Customs and Border Protection service to test the Mobile Passport Control app for arriving cruise passengers. The technology was first launched last year at Hartsfield-Jackson International Airport in Atlanta, and is now available at 13 major international airports across the country. Mobile Passport Control is a free smartphone application for US and Canadian citizens, available to download onto your iPhone, iPad, or Android device. You can use the app to create a traveler profile. At the airport – or in this case, cruise terminal – you just open the app, fill out your customs declaration on your phone, and snap a selfie. You'll then get a receipt on your phone with a QR code, which you'll show to the CBP officer in the Mobile Passport Control fast lane. Mobile Passport Control will become available at Port Everglades by the end of July.
With the latest passport control technologies available on site, we expect that Port Everglades will soon have the smoothest passenger arrival experience of any US cruise port. We hope that more ports will follow Port Everglades' lead and add Automated Passport Control kiosks and make Mobile Passport Control available!
If you're planning a cruise vacation – whether you are sailing out of Fort Lauderdale or any other port – make sure you check out our article on passport requirements for cruise passengers before you set sail!